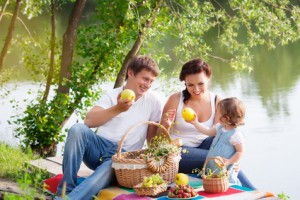 We are ready for spring in Collin County!  Families with young children need to get out of the house and experience the changing seasons.  As a speech-language pathologist, who provides speech therapy near Murphy, Texas, I am always looking for ways to enrich speech and language development in children utilizing the unique opportunities in the community.
Trips to the park give opportunities for labeling (flowers, bird, duck, pond, fountain, swing) and requesting, ("I want to swing", "Can I feed the ducks?")  This may seem obvious, but when you realize interests and vocabulary change relative to the environment, it becomes obvious that more experiences will contribute to more language understanding and usage.  Conversation skills are also important.  The excitement of doing something different, while involved with a communication partner, contributes to better communication skills.  Use opportunities to answer questions and ask questions,  "What do you like best at the park? The swings or the fort?"   Comment on the answer: "Why do you like the fort the best?"  Suggestion: Leave technology at home, or use it discreetly!
Murphy has a wonderful agricultural history. Look for a farm or a pasture.  A short drive north on 78 will take you right through farmlands.  Interesting conversations can revolve around farm animals, tractors, and gardens.  Follow up at home with books about farms.  The Little Red Hen is an excellent choice because not only do you target vocabulary, you see the sequence of a plant from sowing to harvesting to eating as well as the sequence of seasons.  There is so much packed into that little story!
Another great idea is a visit to Sprouts!  Label fruits and vegetables and then categorizing them.  Point out how items are put together because they are similar.  Talk about attributes, like color, flavor, smell.  "Do you eat this raw or do you cook it?"  "What is your favorite fruit?"
If you suspect your child may have a speech or language disorder, speech therapy in Murphy, Texas is available at Speech and Occupational Therapy of North Texas.  If you have questions about your child's development, please complete our developmental survey.  We will be happy to have a speech pathologist call and discuss your child's development free of charge.