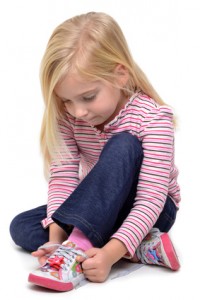 Occupational therapy (OT) supports and improves cognitive, motor, and sensory development utilizing meaningful  age-appropriate activities.  In the world of OT, these activities are also referred to as "occupations".  For a young child, the primary occupations are playing and interacting with caregivers.  Along with play skills, older children occupy their time with self-help tasks, school-related activities, and a broader range of social interactions.  For families in Murphy occupational therapy is a available at Speech & Occupational Therapy of North Texas.
A pediatric occupational therapist evaluates a child's development and then based on an evaluation, develops a treatment plan.  Intervention is designed to improve skills necessary to participate in daily life.  Part of treatment may be teaching self-management and coping skills for situations that are particularly challenging.  For example, teaching a child to use schedules to stay on track with schoolwork  would be an example of a strategy.  Therapy may also address sensory challenges, such as under or overreaction to sensory stimulation.  Sensory integration disorders may be impacted by difficulty with the vestibular system (balance), proprioception (awareness of body and movement), auditory (hearing), vision, olfactory (smell), tactile (touch/pressure) and gustatory (taste).  Occupational therapists also address motor planning difficulties, motor  coordination and fine motor challenges.
Here are just a few of the difficulties an occupational therapist addresses:
Difficulty with fine motor activities such as handwriting or cutting with scissors
Difficulty with initiating or completing tasks such as play on a swing or doing a puzzle
Difficulty with performance of self-help skills such as brushing teeth, buttoning, and tying shoes,
Difficulty with visual motor and visual perceptual activities such as copying from information or completing assignments
Difficulty with maintaining balance during motor activities such as running, skipping or climbing stairs
Difficulty with cognitive tasks such as attending, following directions, or organization
Difficulty in social activities that require interacting and playing with other children.
Pediatric occupational therapists are trained and experienced in addressing these functional and social deficits. They also work closely with families to insure carryover of skills into the home and community.  To learn more about occupational therapy visit aota.org.
Visit www.speechandot.com to complete a developmental survey or learn more about occupational therapy.