Childhood Feeding and Swallowing Disorders
You may suspect that your infant or toddler is having difficulty with feeding or swallowing.  Difficulty with feeding is exhibited in different ways and at different points in the feeding process. So challenges can begin before food gets to the mouth or may show up at a later stage, such as with chewing, sucking or swallowing.  Perhaps your child has difficulty with the texture or feel of food on his or her fingers or maybe has difficulty getting food onto a spoon.  The first example might have a sensory component and the second may involve motor planning.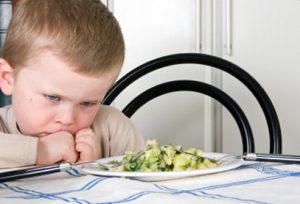 As mentioned, a child can have difficulty with sucking, touching food, handling utensils, chewing, or swallowing.  Again, these stages of feeding and swallowing can have a sensory component and motor planning component, as well as possible muscle weakness or discoordination.  Each stage is important for your child's health since nutritional intake is critical for optimal development.  Intervention will be different based on the specific identified challenges.
Signs and symptoms of feeding and swallowing disorders in infants and toddlers
Arching or stiffening of the body during feeding
Irritability or lack o f alertness during feeding
Refusing food or liquid
Failure to accept different textures of food (e.g. only pureed foods or crunchy foods)
Long feeding time (e.g. more than 30 minutes)
Difficulty chewing
Difficulty breast feeding
Coughing and gagging during meals
Excessive drooling or food/liquid coming out of the mouth or nose
Difficulty coordinating breathing with eating and drinking
Gurgling, hoarse or breathy voice quality
Frequent spitting or vomiting
Recurring pneumonia or respiratory infections
Less than normal weight gain or growth
As a result of these signs or symptoms, infants and toddlers may be at risk for
Dehydration
Aspiration (food or liquid entering the airway)
Pneumonia or repeated upper respiratory infections which can lead to chronic lung disease
Isolation or frustration in social situations involving eating
If your young child is exhibiting characteristics of a feeding disorder, it is important to contact your pediatrician.  Your pediatrician can examine your child to address any medical reasons for the feeding difficulty, including possible reflux or metabolic disorders.
A speech pathologist or occupational therapist with specialized training in treating children with feeding and swallowing disorders can evaluate your child.  Speech & Occupational Therapy of North Texas has therapists experienced in feeding disorders in Frisco, Plano and McKinney.  One method used in our clinics is the SOS Approach, a trans-disciplinary program integrating "posture, sensory, motor, behavioral/learning, medical and nutritional factors to comprehensively evaluate and manage children with feeding/growth problems".  After a thorough evaluation, if your child does meet the criteria for a feeding or swallowing disorder, the speech pathologist or occupational therapist will develop a treatment plan and work closely with your family to remediate your infant or toddler's feeding disorder.
Contact our office at 972-424-0148 if you would like to speak to a speech pathologist or occupational therapist with special training in feeding and swallowing disorders.  We are network providers for many insurance plans and will be happy to assist you in determining coverage for feeding therapy.
For more information about the SOS Approach or to learn more about the importance of good nutrition for infants and toddlers visit:
https://sosapproach-conferences.com/