Many children with autism have trouble communicating effectively with others. One symptom of this problem is a disorder called echolalia. Echolalia has very specific symptoms but is frequently unnoticed because some of the symptoms are also a normal part of learning speech. There are also two types of echolalia – immediate and delayed. As suggested, one type manifests its symptoms on the spot while delayed could manifest its symptoms hours after the event by which it was triggered.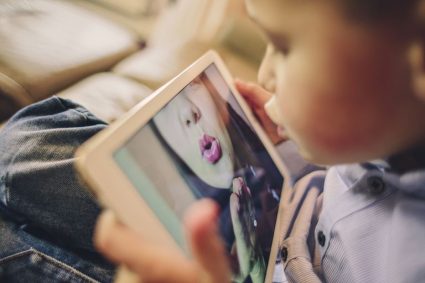 What Are the Symptoms?
The main symptom of echolalia is that the child engages in repetitive speech. This does not necessarily refer to the child saying the same word over and over. Repetitive speech in this instance is more reflective of learning a language when a child will repeat a question rather than answer it. For example, you may ask a child "Do you want juice or a snack?" and the child will reply, "Do you want juice?" In this instance, the child is answering the question by omitting the option of a snack but is answering it with a question rather than a statement.
What Are the Types of Echolalia?
Echolalia has several functional categories and there are two types: interactive and labeling. Here are some examples of interactive echolalia.
Turn-taking – the adult asks the child what he did this weekend and he replies by saying not to forget to put your swimming trunks on. In this case, the question was answered with an instruction that was given for the activity engaged in, but the question was answered.
Verbal Completion – the adult tells the child to brush her teeth and she replies by completing the task and saying, good girl.
Information providing – the adult asks the child what kind of snack she would like and she answers by singing a fast food restaurant jingle. In this case, they weren't in a car so there was no indication that a snack would even relate to going outside let alone to a restaurant.
Here are some examples of labeling echolalia.
Unfocused – a child may walk around a room repeating parts of a tv show heard sometime in the past. It is thought this could be a self-stimulating exercise.
Situation Association – the child may see an apple and begin to recite a commercial for an Apple product
Rehearsal – the child may be asked a question and the child softly answers the question to himself several times, then directly answers the adult who asked the question.
What Are the Causes?
All children use repetition as they develop their language skills. Children with echolalia begin to develop normally, but somewhere after about 18 months you may notice that their development slows or they forget what they have already learned, or they continue to repeat what they hear.
As with autism, no one really knows the cause of echolalia. If it develops as an adult it could be due to head trauma or severe amnesia and manifests itself when they are relearning their language skills. Some people, even those with autism, only experience the symptoms when they are anxious or extremely stressed.
How Is It Diagnosed?
Your physician should be able to recognize the symptoms of echolalia simply by interacting with your child. If your child repeats everything that is said or struggles to communicate in any other way, they may be suffering from the condition. Your input is quite helpful because you can let your doctor know things your child does that you may consider odd. For example, they may line up their toys to play with them in the exact same way each time. Or they may only play with, for example, the left wheel of a car. These clues have your doctor look further.
How Is It Treated?
Treatment varies but usually begins with speech therapy to teach the child to say what they are thinking. If the child is older and the symptoms are triggered by anxiety, medication may be an appropriate treatment.
If you would like further information or an evaluation, please contact Speech and Occupational Therapy of North Texas. We are here to help.