Early Signs of Communication Disorder in Children
Social communication disorder happens when your child has difficulty using verbal and nonverbal language skills in social settings. This primarily happens with social cognition during social interactions. While it typically begins during your child's early developmental period (the first three years of their life), you may not fully notice it until the demands of communication exceed their limited capacities – something that happens a bit later in your child's life. Nevertheless, it's still important to know what to look for here.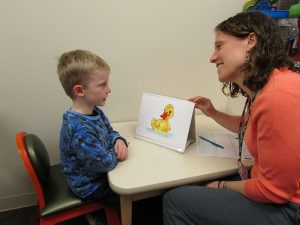 Early Signs of Social Communication Disorder
As a parent, you're probably quite aware of when your child is falling behind other children in certain skill sets. There's no difference here. In fact, you may recognize social communication disorder in your child when they display any of the following:
Difficulty communicating in an appropriate way for the social setting they're in or to meet the listener's needs (e.g. struggling between an outdoor and an indoor tone of voice, greeting and sharing information in an appropriate manner)
Struggling with the flow of communication (e.g. taking turns throughout a conversation)
Misunderstanding anything that isn't explicitly stated (e.g. idioms, humor, metaphors)
Problems using body language or making eye contact
Saying inappropriate things during a conversation
Telling stories in a way that seems disorganized
What Therapists Look For
Even though you as a parent may recognize early signs of social communication disorder, it's still important to have this properly diagnosed by a professional. For this the DSM-5 will be used. It says that your child will manifest difficulties using both verbal and nonverbal communication in social settings. There are a few other things that it will look for that you as a parent may not notice. This includes:
Your child's communication deficits will result in functional limitations that make effective communication, participating in social situations, maintaining friendships and relationships, doing well in school and everyday life difficult. This may happen in only one area of your child's life or your child may show a deficit across multiple areas at the same time.
It's important to rule out other medical and neurological conditions such as autism, an intellectual disability (e.g. intellectual developmental disorder), a global developmental delay, or some other type of mental disorder.
When you notice any of these issues and you want some help understanding what's going on, contact the center for Speech and Occupational Therapy of North Texas. With multiple years of experience on their side, they're there to help your child succeed.